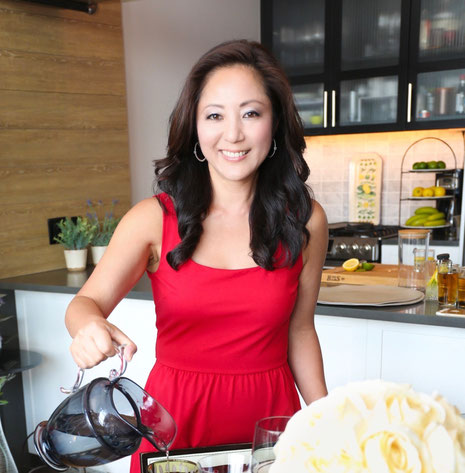 ひでこコルトン
COLTONS NEWYORK 代表取締役
NY*おもてなし料理家
Food & Life Style by HIDEKO COLTON
ライフスタイルブランドアドバイザー
NY在住約30年
CIA (Culinary Institute of America)にて料理の基礎を学ぶ。
外資系投資銀行に10年勤務した後、NY流おもてなしをテーマとした
ライフスタイルブランド、COLTONS NEWYORKを立ち上げる。
2010年から開催してきた予約が取れないほど大人気の
会員制「NY*おもてなし料理教室」はメンバー数3,000名を超え、
女優さんや著名人も多数プライベートでクラスを受講。
NYスタイルでおもてなしのサロンを運営したい人のために
現在「NY*おもてなし料理教室」は動画オンラインコース:
動画にてNYらしいサロンや
おもてなし料理を世界中の会員へ伝授している。THE COLTON CLUBはミーレが協賛。
ミーレがパートナーである世界の50ベストレストランやアジアの50ベストレストラン授賞式等に参加。
COLTON METHODTMを取り入れたライフスタイルに特化したブランディングにも力を入れ、講演や企業向け米国市場調査や商品PR・監修、レシピ開発等多岐にわたっても活躍中。
米国と日本の新聞・雑誌等で幅広く掲載され、米国フジテレビ(FCI)料理コーナーは5年間レギュラー出演中。著書「NYのおもてなしレシピ」(講談社)
<テレビ出演>
米国フジテレビ・FCI 料理コーナー(5年間出演中)
フジテレビ「ノンストップ」
日本テレビ「every」、「ZIP!」、「高校生クイズ(準々決勝審査員)」
NHK「2度目の旅シリーズ:ニューヨーク編」
<協賛およびパートナー企業一覧>
MIELE 
JAL
アリタポーセリンラボ
ノリタケ
茅乃舎
NTT Docomo
meiji 
山田平安堂
コスメプラウド
解離水
<企業コラボレーション一覧>
Dior 
Tiffany
高島屋
Henri Giraud Champagne 
Hideko Colton 
Celebrity Cook, Life Style Brand Adviser 
Author, Japanese TV Personality
Founder of COLTONS NEW YORK 
Born and raised in Japan, Hideko moved to New York in 1990 where she worked in the Wall Street. Hideko studied at the CIA (Culinary Institute of America) in Hyde Park, NY, and changed her career from finance to food, founding COLTONS NEWYORK, a food event & lifestyle company in 2009.
Since 2010 Hideko has been developing and teaching a NY-style entertainment class called NY Omotenashi (hospitality in Japanese) cooking class for Japanese women, with more than 3,000 members all over the world. Her class goes beyond cooking by celebrating the total experience of entertaining including cocktails, table top decorations, flower arrangements, pairing with wine, scent and music. Her class has been featured in numerous magazines and newspapers, and she has a regular TV segment called America's Kitchen for Fuji TV USA/Fujisankei. 
On December 7th, 2015, Kodansha (the largest publishing company in Japan). published Hideko's first cookbook in Japan. The book "NY Omotenashi Recipe" (NY Style Entertainment Recipe) introduces her unique cooking style to the Japanese people. 
Now she introduces "NY Style Entertaining" to Japanese food and entertainment aficionados. Hideko will share her secrets for entertaining with Japanese flair in the unique experience!!
________________________________________________________
CONTACT:  hideko@coltonsnewyork.com     
917-834-1170   l    PO Box 7915   l    New York, NY 10150      
©Copyright 2017 COLTONS NEWORK LLC.   |      All rights reserved